'Brother Vs. Brother:' The Highs, the Lows, the Awesomesauce
As the Scott siblings head to San Francisco for an all-new season of rivalry, let's look back at where they've been — and where they mi-ight not be welcome back?
When Jonathan and Drew started filming Brother Vs. Brother , their competition was pretty straightforward: Each Scott coached a team of contestants through head-to-head renovation battles, with generally stylish results. Over the years, things have gotten...more interesting, let's say. Here's how they got to Season Six.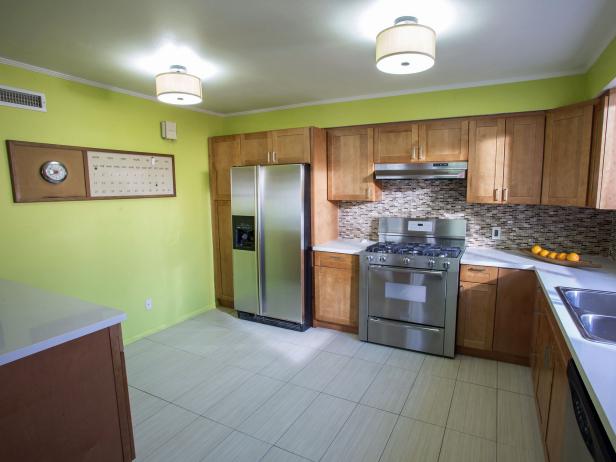 After: Team Jonathan's Vibrant Green Contemporary Kitchen
Then there's the vibrant wall color, chosen by Francis, as seen on HGTV's Brother Vs. Brother. "The color of the wall in the kitchen — that is awful! This is not a Caribbean-themed makeover that we're doing here," Jonathan says. Mike adds: "This is the ugliest paint that I've ever seen in my life." Luckily, Francis' paint choice won't decrease the value in the kitchen.
From:
Brother Vs. Brother
Gilles Mingasson/Getty Images
Did we say "highlight"? We meant "highlighter," as in the neon green paint poor Francis Toumbakaris (of Team Jonathan) chose for this otherwise-successful Los Angeles kitchen (in his defense, he thought it would make the space "come to life," and it did...in a B-movie-monster kind of way). "This is the ugliest paint that I've ever seen in my life," real estate expert Mike Aubrey noted. Team Drew won this round.
Team Drew member David Font created a memorable-in-a- good -way new look in this living room, where he repainted, added a chair rail and molding and built a new hearth and mantel. Guest appraisers David Visentin and Hilary Farr (of Love It or List It ) both swooned over the finished product — yes, David and Hilary agreed on something! — and Font was the first season's overall champ. Score one for Team Drew!
Season 2: Drew Chooses Wisely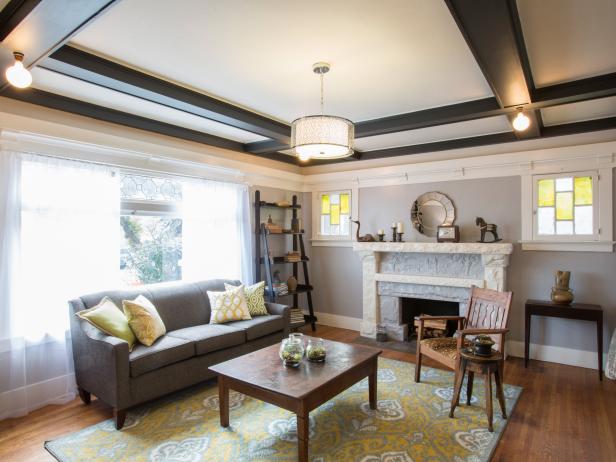 Transitional Gray Living Room With Yellow Accents
As seen on HGTV's Brother Vs. Brother, Team Drew gave this living room a fresh new look. The new design features a white ceiling with black paneling, gray traditional sofa, a yellow and gray area rug, and yellow stained glass windows. A rustic wooden shelf, and other wood furniture, adds warmth and contrast to the stone fireplace.
From:
Brother Vs. Brother
Gilles Mingasson/Getty Images, Scripps Networks, LLC
Jennifer "Six" Hawn scored big for Team Drew with this Los Angeles Craftsman's updated face: She retained era-appropriate details like the box ceiling and stained-glass windows and swapped out overstuffed furniture for newer, sleeker pieces. Drew clinched this season as well — and it was clear the next battle was going to get personal.
Season 3: Wishes Do Come True
For the third installment of BVB, the brothers left the team-competition format (and Los Angeles) behind to go head to head in Las Vegas — and raise the stakes in a very (cough) personal way. When Drew lost the living-room flip challenge, Jonathan made him pay.
Season 3: Now This Is Living
Guest judges David Bromstad and Josh Temple (of Beach Flip ) declared Drew the winner of the kitchen-and-dining-room challenge when he pulled together this stylish entertaining space. Per their agreement, Jonathan then had to give himself a makeunder — and perform a striptease with Australia's Thunder From Down Under (a male dance team at Excalibur).
Speaking of "you can't do that on television" moments, Jonathan also lost the bed-and-bath challenge — which won him a seat at a hot-wing-eating contest that devolved into a dunk tank.
Season 4: I Always Feel Like Somebody's Watching Me
Season 4 brought the brothers back to Las Vegas. Drew, in turn, brought...little Property Brothers gnomes, which he stashed all over Jonathan's build site. Look, Drew, we realize you'd just suffered your first overall loss, but is revenge like that really appropriate? Pranks are great, but gnomes are scary .
Jonathan, in turn, replaced his brother's equipment with itty-bitty plastic tools. (Annoying, but so preferable to gnomes.)
After losing the living-and-dining-room challenge, Jonathan had to head back to the Excalibur. The good news: He got to keep his clothes on this time. The bad news: He had to dress as a royal jester for Drew, who was crowned king of the realm.
Drew and Jonathan headed to Galveston for Season 5, where Jonathan got serious and dreamed up a picture-perfect, open-concept kitchen, living room and deck. No joke: We're more than a little obsessed with this space.
Move over, Mary-Kate and Ashley Olsen: San Francisco's got a new set of famous twins, and this duo smiles. The brothers purchased their Bay Area properties sight unseen, so anything could happen this time around. Check out their living room challenge here — and tune inWednesday, May 30 at 9|8c for the all-new Brother Vs. Brother episode, " California Kitchens ."